Friends, Board Junkies, Audiophiles lend me your ears. On May 12th we will be bringing to you IHPR-004 The Disappeared – The Radical Miracle. This is a 5 song EP that is going to totally rock your block off!! This comes on a 45 RPM 12" record with a three color screen printed jacket. This first press is limited to 100 copies on good ole' black weenil. Also included are an insert, download code and two buttons.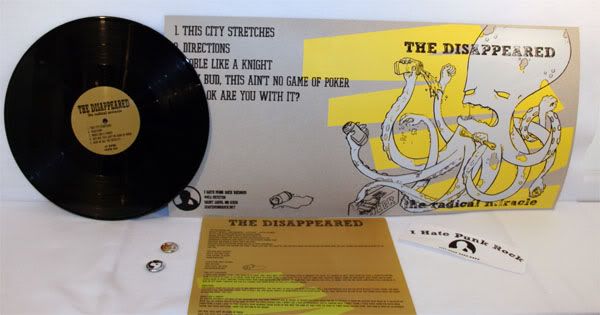 This record has been a long time coming and a lot of people put a lot of work and time into this bad boy. We even shot our first video! Check it out below!!
http://www.youtube.com/watch?v=8lICdeUQttA
If you would like to preview this record and you would like a free download, just send me PM and I will gladly send you a download code. If you are not a board member and you are just trolling around, send me an e-mail to info-at-ihatepunkrock-dot-net and I will happily send you one as well. This is also streaming on our website,
http://www.ihatepunkrock.net
Naturally, we are super stoked about this record and think it totally rips, so please give this a listen!!!
Thanks Everyone!